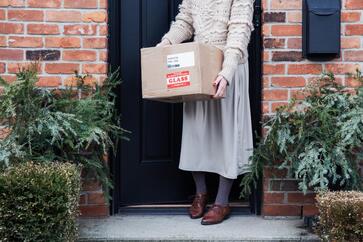 Packages are coming through the door fast and furiously as the holidays descend upon us. Bulky boxes and packing peanuts make it harder to keep your home or office organized. Try these 5 simple steps to keep delivery clutter from overwhelming your space and your spirits.
1. Designate a spot for packages away from the entrance. Packages can quickly pile up near shoes, coats, and all of the things you need to come and go. They don't belong with that group. To avoid a pile up, deliver the packages to an area where everyone can regularly find them and they're out of the way. A text can prompt the owners to pick up their packages quickly. Or you can deliver them to where they belong.
​
2. Open packages on the day they arrive. Don't wait and let them pile up creating clutter. The pandemic has driven us to online shopping far more than in the past. With the holidays upon us, more packages than ever are arriving at the door. To keep from getting overwhelmed – open them right away. Check the contents to be sure your order is accurate (sizes, colors, quantity . . .) and complete (any backorders or missing items.) Then put items where they belong. Don't forget to hide gifts away from snoopers! ​​
3. Keep a box cutter or utility knife nearby for opening packages easily and quickly. You may have a utility knife in your toolbox, but when it's time to open a box you don't want to have to go searching for it. Keep a retractable knife handy in a desk or kitchen drawer and don't forget to put it back where it belongs so you'll have it the next time you need it.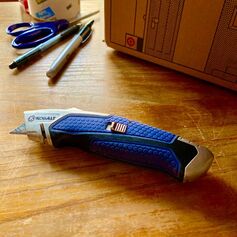 4. Break down the boxes immediately. Packages take up a lot of space and pile up quickly. Keep your breathing room safe by breaking down boxes and disposing of packing materials right away. Not only will you save room in your home, but doing a little at a time keeps disposal manageable.
​
5. Don't save boxes and packing materials unless you have a good reason to. Once you're sure you won't be using packaging to make a return, recycle the box and throw away the bubble wrap or mailer bags. To keep your office or home clutter free, save packaging only if you have a solid purpose, such as moving (sometime soon) or storage (something specific.) Supposing that you might need boxes someday for something is not a good reason to keep them.